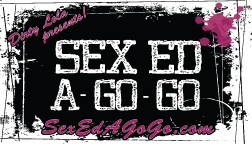 Do you like Go-Go dancing and funny, knowledgeable, and chatty ladies with amazing cleavage? Then you definitely need to join us for this next installment of Sex Ed. A Go-Go at the Parkside Lounge!!!
Sex Ed. A-Go-Go is one part ADULT sex Q & A; one part go-go revue. We seek to inspire your libido and open your mind to a world of sexual possibilities one question at a time.
We'll be joined this month by special guest
Kate McCombs
!!!! We're going to talk about EVERYTHING and ANYTHING your sexy little hearts (and loins) desire!
The Parkside Lounge
317 East Houston
New York, NY 10002
$10 at the door
Make sure you have lot's of singles for our dazzling go-go girl Kristen Lee and for our awesome raffle sponsored by SHAG Brooklyn!!!