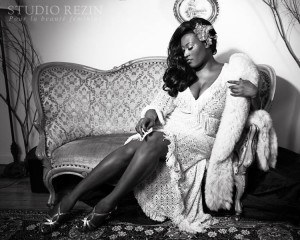 Sweet Lorraine and I go back a looooong way. She gave me my first taste of the stage way back when I hosted her burlesque shows, and she has been one of my biggest cheerleaders. I am beyond lucky to have someone so talented and amazing in my corner and I love being able to share her with the rest of the world whenever I can. You won't want to miss this woman shaking her thang across the stage, nor will you want to miss what she has to say about all things sexy.
Sweet Lorraine is the creator and producer of Shades of Burlesque, New York City's only all Black burlesque revue!  She has been coined the "Grace Jones of Burlesque" due to her Fierce and Sensual burlesque performances!  She has performed all over the U.S. as a solo performer, as well as a featured dancer with The Sweet Spot, a touring POPular Erotica show.  She is also a former member of Brown Girls Burlesque, a New York City based troupe that highlights performers of color.  Sweet Lorraine is absolutely captivating on stage and always a crowd pleaser!  Find out where she'll be shimmying next at SweetLorraineBurlesque.Weebly.com.
Catch Sweet Lorraine and the rest of the Pussy Posse at Sex Ed. A Go-Go on May 7th at Otto's Shrunken Head. Grab your tickets HERE.