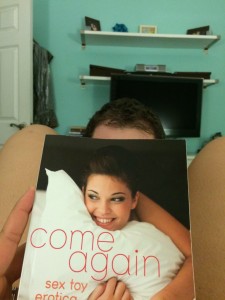 Smutalingus:
Smut – a – lin – gus
n. The act of reading smut to one self or aloud while receiving cunnilingus.
Cunnilingus was never my favorite sex act. Nope. It just wasn't. Over the years many of my partners have tried to change my mind, both men and women, but to no avail. I always felt so awkward just laying there. I never knew what to do with my hands, and honestly I would get bored. It was just too hard to focus on the pleasure I was receiving while feeling so awkward.
That all changed a couple of weeks ago when a Twitter friend suggested I try reading a smutty story while being orally pleasured. It made perfect sense! A sexy distraction that occupied my hands AND my brain……. Genius! So I asked D. Hubs if he wanted to give it a try. I was worried he'd be insulted by the whole idea, but he was actually excited to give it a try. I love that man.
At first it was a little weird. It took us a minute to find a position that would be comfortable for both of us once we realized that the book would block Hubs view. After a lot of shifting and a  fit of giggles we were off. The awkwardness melted away as soon as I started reading. For the first time ever I was enjoying receiving oral sex. Reading a sexy story while my husband happily explored my pussy was and is one of the sexiest things I've ever tried.
I still don't enjoy cunnilingus, but I LOVE smutalingus. It was a total game changer for me. I have another sexy tool in my tool box that I'm excited to try it with other partners, and one less sex thing to feel awkward about. YAY for less awkwardness around sex!!
I hope this inspires some of you to keep exploring and trying new thing on your own or with a partner. Enjoy your weekend!
xoxo
Lola
*The book pictured is Come Again: Sex Toy Erotica, edited by Rachel Kramer Bussel. You can get your sexy little hands all over it over it now on Amazon!