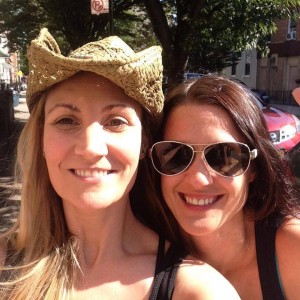 Most people have to hide their sexy online activities from their bosses, but not me. Nope! I'm lucky enough to work for two amazing ladies who are all about you getting your sexy on and having fun while you do it.
SHAG has been keeping Brooklyn sexy since 2009. Founders Samantha and Ashley have carefully curated the boutique/ fine art gallery/ event space with sexy accouterments that all have one common theme… Making People Feel Sexy! SHAG offers an open, inviting and educated experience – we meet you where you are in your sexual journey and help you to explore further.
Meet the women who make our bangin raffle possible every month and the owners of the sexiest little sex shop that ever sexied in Brooklyn, Samantha Bard and Ashley Montgomery!!
Ashley Montgomery has been a Financial Manager and Consultant for small businesses across a wide range of industries over the past 15 years, partnering with over 50 companies in the NYC region. Ashley has always had a deep appreciation and passion for community-based art and music projects, which led her to co-founding Shag, a "sexy" lifestyle brand, with fellow Brooklynite, Samantha Bard in the fall of 2009.
Samantha Bard has an extensive educational and professional background in fine art, with eight years of experience in casting techniques, sculpture, photography. Samantha's fine art work deals with humanity, sexuality, and gender, with an emphasis on revealing things which been concealed for far too long in our culture.  In the fall of 2009, Samantha co-founded Shag, a "sexy" lifestyle brand with fellow Brooklynite, Ashley Montgomery.
Sam and Ash will be joining the Pussy Posse on July 2nd at Otto's Shrunken Head! Don't miss our Kinky Tiki Luau!!!