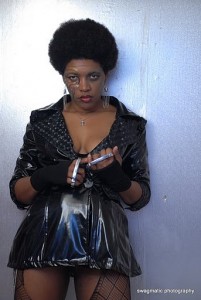 We love Foxy. It's that simple. She gives a great show and adds a sexy, intelligent voice to the Pussy Posse. When Foxy is around you know you're going to learn something new.
After completing the burlesque class series by Deflouered Productions, Foxy gathered her wits and talent to begin performing. Her first performance residence was Rivers of Honey Cabaret and she was a regular performer at Matthew Silver's Circus of Dreams and Crimson Kitty's Cataclysm. Her artistic skill has been shared both nationally and internationally in London (Bar Wotever), Connecticut, California, Rhode Island, Massachusetts (WTF Queerlesque 2), North Carolina (Heavy Rebel Weekend), Georgia (DragonCon), Virginia, Florida, Washington DC (The Weirdo Show), Philadelphia (Fierce Festival 2015), and NYC (Hypergender Burlesque and Bushwig 2015). Foxy's first headliner performance was in May 2013 at the DC Gurly Show (Washington, DC). In 2014, she was proud to be one of the original cast for NYC's first all female drag show, Crimson Kitty presents FAUXVASION and DC's Chocolate City Burlesque & Cabaret. This year she is stretching her artist muscles. She will be starring as Josephine Baker in J'ai Deux Amours this summer. Her motto is EMBRACE YOUR SPECTACLE.
Catch the ever lovely Foxy Squire on stage at Otto's Shrunken Head on August 6th at 7:00pm!!!