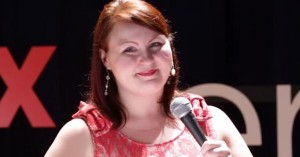 The Titties From Jersey City!
Lillian Bustle is a burlesque performer, singer, and public speaker/gleeful loudmouth about body love! Although her first burlesque performance was in 2012, she made her nightclub debut at the age of 14 as a singer in a drag show. She's been covered in glitter and boas ever since!
Influenced by body-positive activists like Jes Baker and bodacious women like Bette Midler, Lillian busts through societal boundaries about size and beauty. She hopes to help people of all shapes and sizes redefine their sense of beauty and celebrate in their own skin. She recently gave a well-received talk with TEDx Jersey City, Stripping Away Negative Body Image, which has over 100k views on YouTube.
Lillian was photographed by Substantia Jones for the fat-positive photo activism project, Adipositivity! and is thrilled to make her calendar grrrl debut as Miss April in the 2016 Adipositivity calendar. She was also featured in the trailer for Jes Baker's new book, Things No One Will Tell Fat Girls. Lillian recently spoke on body diversity at SUNY New Paltz, and is now co-hosting The Body PosCast! Available here, on iTunes, and on any podcast app.
You'll have a chance to learn more about Lillian when she joins the Pussy Posse and Dirty Lola at Otto's Shrunken Head on February 4th!