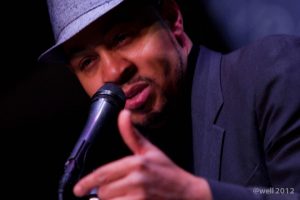 Mo Beasley is a poet/actor, author, and educator. He has been dubbed The Head Coach of Erotika, for founding New York City's longest running erotic performance series, UrbanErotika. This award- winning poet has been featured at the legendary Nuyorican Poets Café, The Blue Note, Bowery Poetry Club, Joe's Pub, erotic reading series: Rachel Kramer Bussel's  In the Flesh and Abiola Abrams's Kiss & Tell Live. Since 2012, Beasley has been a featured speaker, moderator, and performer for CatalystCon East, West, and Midwest, promoting sex positive discourse and celebration for all shapes, shades, and lifestyles.
When not at the mic, Beasley teaches poetry & spoken word, theatre, and sexuality education courses/workshops to youth and adults throughout New York City. His current and past clients include Brooklyn Academy of Music (BAM), Children's Aid Society, Medgar Evers College, NYC Department of Education, Berkeley College, Planned Parenthood, and more.
You can meet Mo and the rest of the Pussy Posse at Otto's Shrunken Head on July 7th!