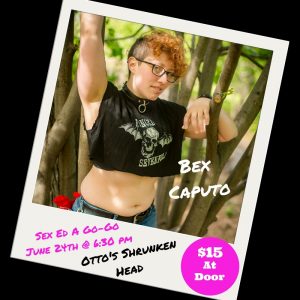 I am beyond excited to have Bex joining the Sex Ed A Go-Go Fam this month!! They are super awesome and I can't wait to get them on stage and share that awesome with all of you!!
Bex Caputo is a sex educator, blogger, speaker, podcaster, and dildo peddler. They've been a proud and undeniable kinkster ever since they insisted on being served their meals in a dog bowl at the age of 8 (and even before that, probably). They're a Virgo, a Hufflepuff, a pup, and a nonbinary queerdo who grew up into the pop-punk skater boy they always had a crush on in high school.
You can find them on Twitter @BexTalksSex, on their blog at BexTalksSex.com, or on their weekly podcast The Dildorks!
Come out and celebrate Pride with Bex and the rest of the Pussy Posse at Otto's Shrunken Head on June 24th!!