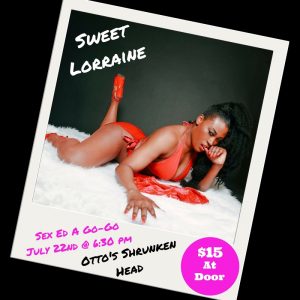 Sweet Lorraine "The Grace Jones of Burlesque" is the Creator & Producer of Shades of Burlesque, NYC's ONLY All Black burlesque revue!  She also produces SafewordNYC: A kinky burlesque and BDSM spectacle and Sweet Fantasy Burlesque, featuring novice burlyQ dancers and some of NYC's most sought after nightlife performers!
Sweet Lorraine aims to foster nurturing spaces for Black Women, POCs, & LGBTQ folk to share their dynamic expressions of sexuality!
Follow her @SweetLorraineNY on IG/Twitter/FB & at SweetLorraineNY.com! 
Come out and celebrate Dirty Lola's Birthday and see Sweet Lorraine's return to the Pussy Posse at Otto's Shrunken Head on July 22nd!!