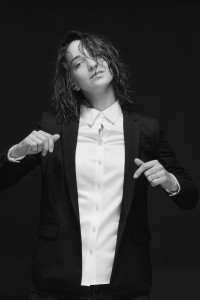 MacKenzie is Founder and Editor-in-Chief of the printed porn quarterly Math Magazine. Her idea to start a dirty magazine was born from a brief sexy experience at a Baltimore house party and she is now hell-bent on redefining pornography from her bedroom-cum-office in Brooklyn.
Math Magazine features artwork, photography, writing, and interviews centered around a sex-positive culture of inclusiveness, joy, and kink. Contributions come from talented folks from all over the world. If you are interested in becoming involved with the publication from submitting work to sponsoring an issue please contact MacKenzie at privatebox@mathmag.com
You'll have a chance to learn more about Mackenzie and MATH Magazine when she joins the Pussy Posse and Dirty Lola at Otto's Shrunken Head on April 7th!