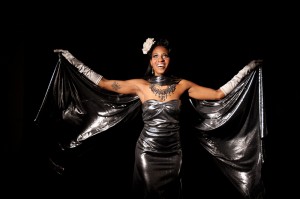 I've known Essence for a while now. I've seen her perform countless time, and I never leave disappointed. That is the power of Essence. She brings it every time.
Essence Revealed, the Bubbling Brown Sugar of Burlesque.
A dual degreed, former lap dance engineer of the upscale gentlemen's club scene, she has performed burlesque at venues all over New York City, including Duane Park, The Slipper Room, Nurse Bettie, Kitty Knights, Room 69 @ the Hotel Chantelle, Abiola's Love, Sex & Dating Vimeo Show, Abiola's Kiss & Tell live events, Dr. Choades Upstairs/Downstairs, Hypergender Burlesque, Red Umbrella Diaries, Sex Worker Cabaret, Sex Worker Literati, Rivers of Honey Cabaret, University's, Canada, Europe & travels with Gesel Mason's Women, Sex & Desire.
This Boston beauty transplanted herself to the Big Apple because she had a secret. She knew the essence of woman and she needed the best stages to show the world just how strong, sensuous, beautiful and bold that essence is!
Catch Essence's Pussy Posse debut Thursday, November 5th at Otto's Shrunken Head!!
Find out more about Essence HERE