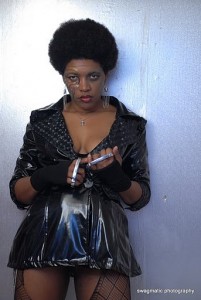 Foxy is a long time member of the Pussy Posse. She always has some new and crazy adventure to share with us when she comes to visit. I can't wait to hear what she's been up to!!
After completing the burlesque class series by Defloured Productions, Foxy gathered her wits and talent to begin performing. Her first performance residence was Rivers of Honey Cabaret. Her artistic skill has been shared both nationally and internationally in London and over 15 states. In 2014, she was proud to be one of the original cast for Crimson Kitty's FAUXVASION (NYC's first all-female drag show) and DC's Chocolate City Burlesque & Cabaret. As well as, she starred as Josephine Baker in J'ai Deux Amours. Her first visual art presentation was at the BitCoin Center for the Fuck A Genre Fashion Fundraiser. Fox Squire, her drag king brother debuted in NYC but he has appeared in World Famous Bob's DRAG RACE, RockBar (NYC), The Weirdo Show (DC), Blacklist Burlesque (VA), Austin International Drag Festival (TX), and Boulet Brother's QUEEN KONG (CA). Last year began a writing journey as F.Squire. Their first selected work, Hairstory, was published in Glitter & Grit (Lambda Literary award winner) and performed spoken word in NYC & MD. The motto is EMBRACE YOUR SPECTACLE.
Be sure to catch Foxy's return to the Pussy Posse on Thursday, July 7th at Otto's Shrunken Head!!