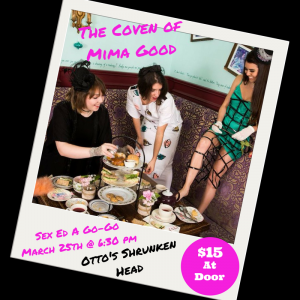 For the very first time in the history of Sex Ed A Go-Go, we're going to have a LIVE band performing during the show. That's right, an entire band will be our special guests and they'll be accompanying our amazing go-go dancer Joie Nouveau!! This is a moment you won't want to miss.
The Coven of Mima Good
is a 3 piece reclamation of rock-n-roll from its white male predatory gaze; a witch's battle cry against the patriarchy and other systems of domination.